Eager to organize a Blockchain hackathon or work with other progressive techniques such as IoT? My team and I are here to help you with the organization of your next hackathon.

My name is Jesse van Doren, founder of Brize and a pioneer in the organization of hackathons in the Netherlands. Together with my team of hackathon experts, I have oodles of experience with developing, organizing and executing hackathons. Not only for developers, but also other target audiences.

What is a hackathon?
Essentially, it is the meeting of different disciplines, such as developers, designers and, sometimes students who work on a challenging problem in daily practice. Hackathons in the Netherlands receive particular attention as they are an innovative way to brainstorm, with specialists from different branches or various departments within a company.

I believe in the power of a hackathon in the Netherlands to bring together employees from all levels of an organization. For new perspectives on current challenges and to tackle it with creativity, skill and experience.

Tip: The hackathon in the Netherlands is not just for large and established organizations. Students are also often present at hackathons to give fresh new out of the box ideas. We can organise a hackathon for every organization, tailored to a concrete challenge.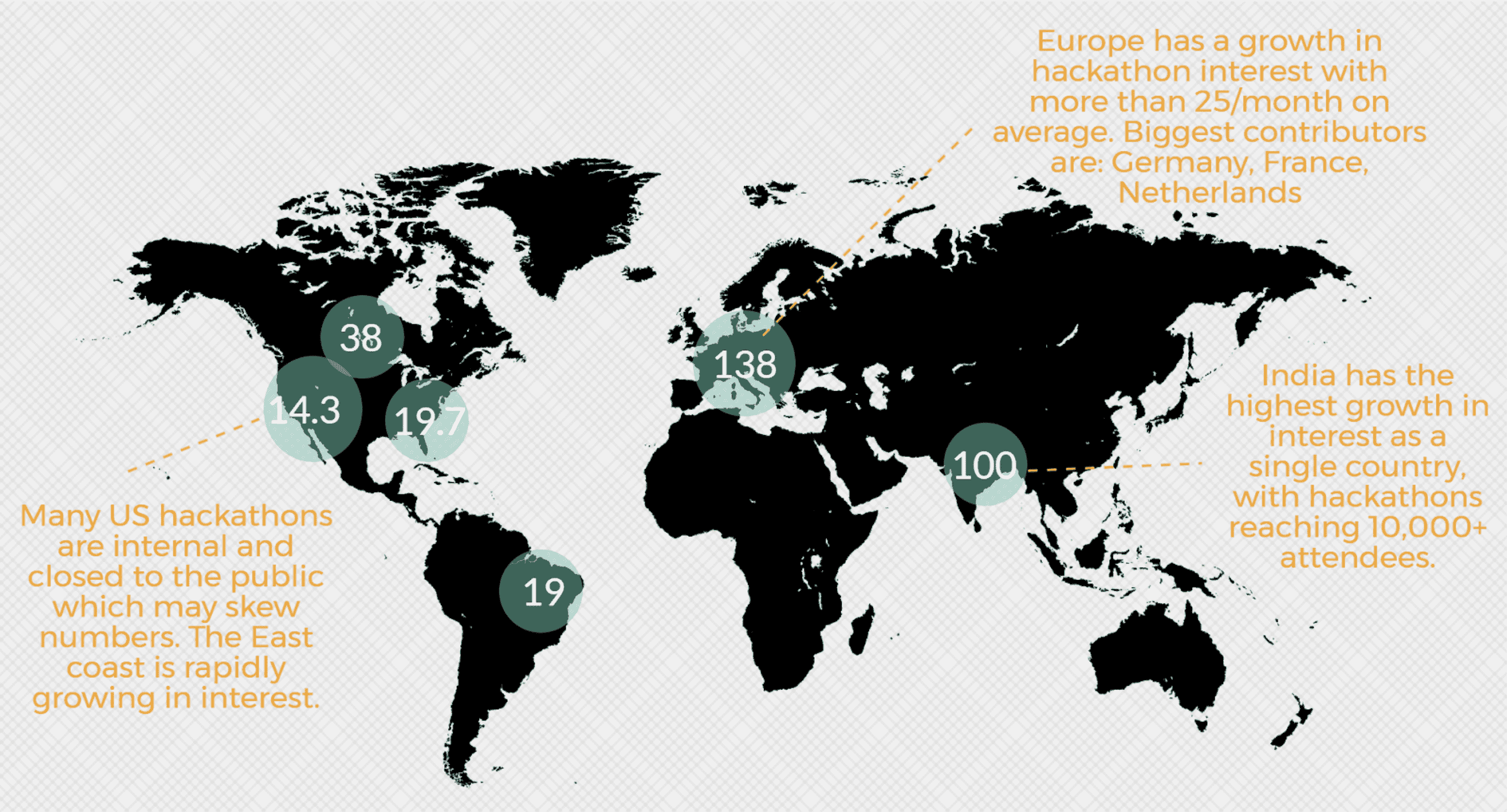 Organize a hackathon: The possibilities
Are you looking to organise a hackathon and wonder about the possibilities? We specialize in different types of hackathons:

1. Sprint Hackathon: a Sprint Hackathon is the driving force and inspiration for innovation. Focused on your employees, a Sprint Hackathon is split into two day parts. Together with my team, I can help you and your employees translate trends and social changes into innovative ideas and new technologies within your organization.

2. Classic Hackathon: during a Classic Hackathon, we work on a concrete solution for a current challenge within your organization in 24 hours. Challenges can be based on business or conceptual challenges in urban or rural areas. Often participants go through the night without a wink of sleep! This is the most common hackathon in the Netherlands: to determine if this form of hackathon is suitable for your organization, depends on the target group participating in the hackathon and the expected outcome.

3. Hackathon Festival: a Festival Hackathon lasts two days and is all about creativity. During the first day, participants reflect on the challenge you are proposing. On the second day they start working on their ideas and form concrete solutions. Often a hotel stay is included with this hackathon.

4. In-House Hackathon: the In-House Hackathon lasts one day and uses the knowledge and skills that are already available. By working with the participants on a predetermined topic, we generate ideas and insights for a creative solution. It helps you and your employees to think and innovate on a strategic level. This day is often organized as a 'team outing' to stimulate team building. It is important to determine whether the process or outcome is most important.

Examples of a hackathon in the Netherlands
Curious about what the hackathon in the Netherlands has produced so far? Below are two cases which perfectly illustrate:
"...what a hackathon is, and how you can use it within your organization."

- Amnesty International:
Amnesty International marveled at the thousands of videos that residents from areas such as Syria upload to Youtube. These videos serve as important proof to the rest of the world of the terrible conditions they have to deal with.

Amnesty International asked the following questions to understand and to succeed in the publication and viewing of these videos:

1. How do we collect these videos and showcase them to a wide audience?
2. How do we create a platform where you can easily view these important videos?
3. How do we generate more attention and awareness for these videos?
4. How can we build a tool that generates the right audience to showcase this violation of human rights?
5. How do we prevent unsuitable propavideos being shown alongside relevant videos, through YouTube's API metadata?

In 2014, we organized a hackathon in the Netherlands and five other countries to bring together creativity, knowledge and experience. Together with Amnesty International we created a significant case question that we worked on for 24 hours.

- ING:
ING is curious about the future of banking. The bank uses advanced new technologies such as mobile apps and wearables to optimize the user experience. The bank has the idea that there are many opportunities for the financial sector, as well as risks if they are left behind. ING let us organise a hackathon in 2014, to expose new ideas and concepts about the future of banking.

ING asked the following questions and soon a hackathon case challenge was generated:
1. Will we pay with our watches in the future?
2. Can the watch change the way we log into our bank accounts?
3. How do we guarantee the safety of sensitive customer data?
4. How can we safely send financial updates and push notifications?
5. How do we build the best example of future mobile banking?

During the hackathon in the Netherlands for ING, we worked on these important questions from various disciplines within the bank. We combined creativity, knowledge and experience to arrive at new insights and ideas, with which the bank can continue to lead in the future of banking.

What my team and I can do for you
My team and I have extensive experience with the organization of hackathons in the Netherlands. We have been involved in every phase and every aspect of the organizational process. Whether it be for a Blockchain hackathon, or for other topics and challenges that play within your organization, the industry and/or the wider environment.

We organize hackathons based on detailed organization and top-level commitment. In this way we create the ideal environment for working organization-wide or sector-wide on major challenges for the future.

We organize hackathons in the Netherlands and advise organizations in this area. Curious about what we can do for you or do you still have questions about what a hackathon is? Then do not hesitate to contact us with your questions. We would love to hear from you, so that you too can benefit from the great added value of a hackathon.