Firstly, this event can be a hackaday but also takes half a day or several days as well. It can be located at an organization or in other areas such as in the Amsterdam ArenA where we organize our hackathons.

Secondly, it concerns software programmers, in the broadest sense of the word, because there is a strong link with programming. They have to come up with solutions to existing problems from technology in creating a new application or using existing applications in a new way.

However, other talents can also participate to the event because it can be interesting and useful to work on a challenge with different skilled people.

Those programmers and other relevant talents meet to program together and work on the challenge from multiple disciplines. During this event, the cooperation is necessary to have a good brainstorming and succeed in this challenge. In this way various perspectives come together and there are often solutions that specialists from a specific individual discipline would not have come up with. In the Netherlands we see that there are a lot of conceptual hackathons, but it is not always necessary to have developers on your hackathon, but a different target group may be more relevant to join.

The different possibilities to organize a hackathon
Now that you know the meaning of a hackathon, it can be interesting to know how to organize it. Later, we will present a number of examples, but first we would like to tell you more about what a hackathon can yield, thanks to the unique method.

First, you have to know a hackathon offers the opportunity to bring talents to work together on a specific challenge or problem, with different skills. Traditionally, this event is for programmers but now more and more other disciplines are also involved is the challenge to have a mix of competencies. All those talents have different ideas and competencies as they can work faster together than in traditional teams.

A hackathon can be very interesting for any kind of companies because it can bring as many creative ideas and solutions as possible for major problems and challenges. It can also start very concretely and take an important step forward in a short time.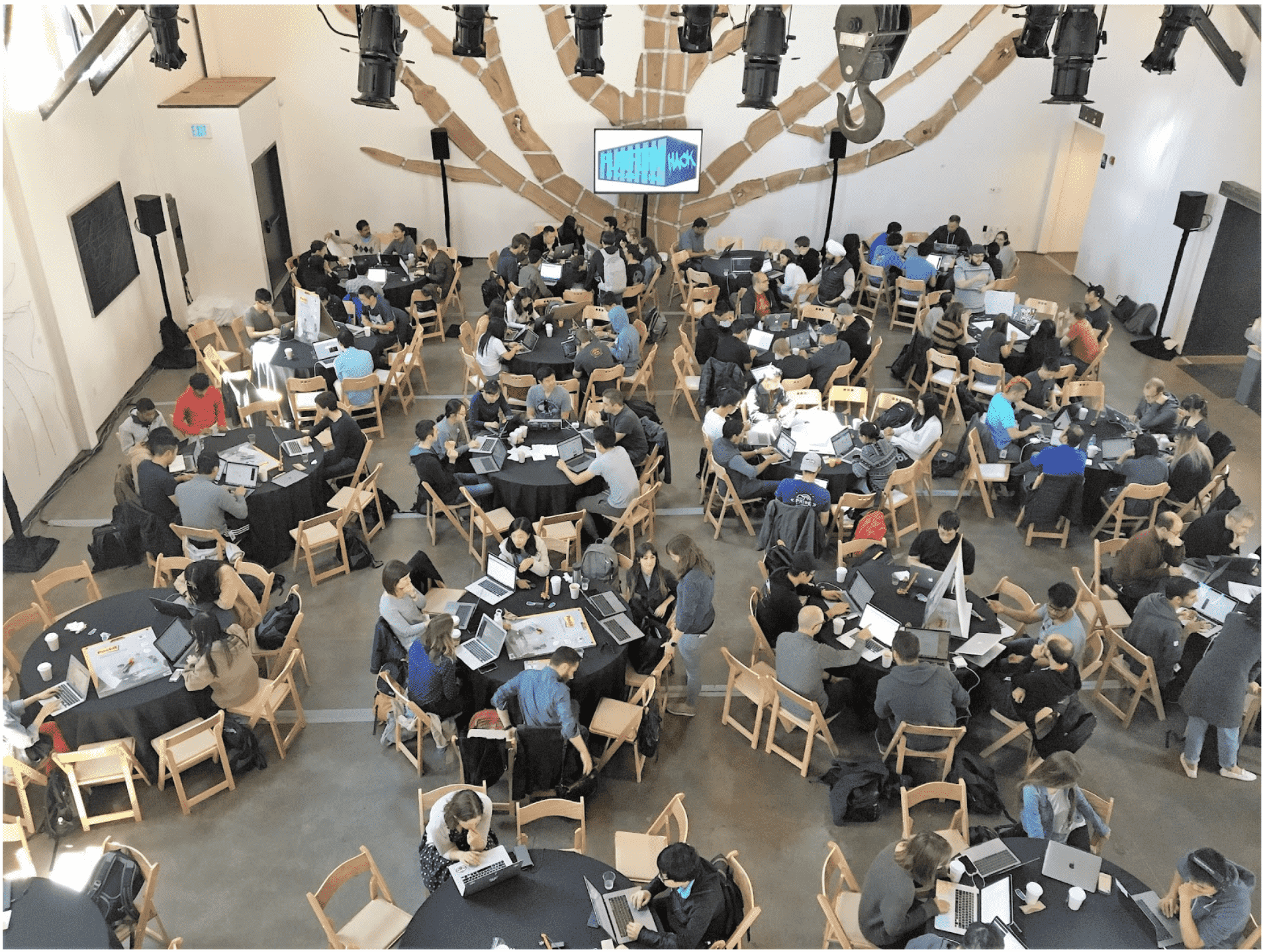 To have a better understanding of the hackathon meaning, we can list some examples of hackathons:

- The first hackathon was organized in 1999 during the JavaOne Conference.
Participants asked to write a program in Java which lets the Palm V communicate with other Palm users and record it via the internet. At that time, the revolutionary innovation clearly indicated what a hackathon was and what possibilities it was offering.

- More recently, we organized a hackathon in the Amsterdam ArenA for the Hogeschool van Amsterdam and KPN. The hackathon idea was to know the best way to optimize visitor flows with the use of new technologies and sensors. The winning team thought about combining simulation with real time sensor data in a learning feedback system to monitor public flows in the ArenA with the modern technology use.

Two good examples of what a hackathon is and what are its benefits for an organization. As you can see, a hackathon enables you to collect as many creative ideas and solutions as possible or get started with it very concretely and take an important step forward in a short time.

How do you organize a hackathon?
Do you want to organize a hackathon and are you curious to know how to organize it? We are the hackathon specialists in the Netherlands and have a large experience in any kind of organizations. We perfectly know what is a hackathon and how to organize it. During the hackathon, you will be able to work on your own problem or challenge.

Do you want to know more about the hackathon and how can it be organized for your company? Contact us and we will be pleased to tell your more about it and help you to organize the event in putting various teams together with creative clever heads who work together during a sprint event.